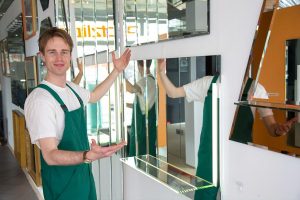 Today, I am writing this article to give you a set of tips for choosing the right glazier in Paris.
The law of the jungle
Paris is the most populous city in France. sSo it is a niche of not insignificant customers for home repair companies. But it's also a jungle where everything seems possible to catch customers who are looking for a repair technician.
Today a simple Google search for "Paris glazier" will bring you a lot of results.
if you visit the Yellow Pages, a hundred beneficiaries offer their services to you.
and even the telephone information is full of craftsmen ready to help you out.
Almost difficult to find your way around and know who will provide you with the best service.
Be aware that in this very competitive sector, companies are ready to do anything to win customers. Some companies spend thousands of dollars on ads. They make and break web pages endlessly to monopolize the first pages of results on Google.
disguised advertising
But I believe that the most insidious method comes from those who distribute false "practical information" in your city's mailbox. You have necessarily received some, but yes, you see what I am talking about.
You probably have one pinned to the fridge. A list of "very practical" numbers hidden in the middle of the number of your town hall, health services, firefighters, emergency, etc…
Taking into account that the emergency numbers are all similar and that the boxes contain a very small mention of the style "this card has no connection with the official administrative services".
Find a trusted brand
For this I have a second piece of information to give you, it is perfect to find a craftsman with a storefront.
Be aware that many unscrupulous craftsmen only open a shop to be referenced on Yellow Pages.
if you ever encounter a problem during or after a repair, you will find the door closed at the store which is only used as a deposit for the craftsman.
Finding a convenience store with a shop where it welcomes its customers is the assurance of finding someone to contact in the event of a problem.
it is not uncommon for a problem to arise during or after a service, which is why it is reassuring know where your specialist's shop is located and what time you can find customer service there.
Always ask for a quote
Finally I would like to warn you about the practices very frequently noticed, particularly in Paris.
craftsmen who do not panic to seduce you with enormously low costs, and once there you ask for travel expenses.
then add tools and additional services (and not always compulsory) which increase the bill. sometimes up to astronomical sums.
Do not forget that beyond 150€ the craftsman must offer you an estimate which you will necessarily have to validate before work.
It is also very important to demand an invoice, in fact several repairs and window replacements are covered by insurance companies.
So how do you choose your glazier?
Certainly, I recommend Vitrier Parisien, the company in which I work.
but after what I have just told you, you will find it difficult to trust the first comer and there is nothing more normal.
I guide you at the same time to consult your relatives, friends, family, neighbors.
they all needed at one time or another a craftsman to help them out, they could thus help you and recommend you trustworthy companies.
As soon as you notice a problem in your panes or windows, call a glazier in Paris. Choose a mobile glazier who can move quickly without keeping you waiting. At Vitrier Paris, you will find the right glazier who can help you.
Glazier Paris is a company created by 2 friends who are specialists and passionate about glazing. Following an ordinary broken double glazing, we tried to find a competent and fast glazier on the web.
It was impossible for us to determine the quality of service of the different providers. Or even to get a vague idea of ​​their different prices.
We were then forced to choose at random and we unfortunately came across a dishonest glazier who charged us a very prohibitive amount.
To prevent this kind of incident from happening to others, we have joined forces to bring together the best glaziers in Paris and thus allow any Internet user to easily find a glazier they can trust and be able to know in advance. the amount of his bill.