The PBX phone system of the future is virtual PBX software. This is due to the fact that it shifts a load of equipment, call management, and other communication to a cloud system, resulting in Voice over Internet Protocol (VoIP), a network that is extremely beneficial to enterprises.
"Information and communication technology liberates the value of time by allowing and facilitating multitasking, multi channels, multi-this, and multi-that."
Communication is critical in every work setting, as Li Ka-Shing points out in the statement above, and its combination with technology is extremely beneficial and relevant.
Virtual pbx is a cloud-based private branch exchange software that enables connectivity over a greater distance, whether remotely or on-site, and at a lower cost and with better control. It has become quite important for firms that have converted to remote work in this post-covid era, as it is very useful in increasing company communication efficiency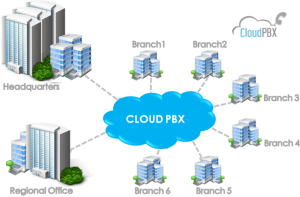 Cloud-Diagram
This is a form of cloud-based or hosted phone system that functions as a private branch exchange system for businesses using voice over IP (VoIP). It is also known as a hosted or cloud PBX because it operates via the internet. It identifies extensions using IP addresses, then substitutes physical phone lines and extension numbers with IP addresses to make all phone communications internet-based.
What is it about Virtual PBX that makes it so unique?
Virtual PBX software will be the company phone system of the future. This is because it offloads the burden of equipment, call management, and other communication to a cloud-hosted system, resulting in Voice over Internet Protocol (VoIP), a network that is immensely useful to enterprises, especially start-ups.
The main advantages of using a VoIP phone service are as follows:
What exactly are the benefits of VoIP and the virtual phone system, asks a prominent leader in the business communications industry. These are some of the advantages:
Flexibility and efficiency

: Virtual PBX software systems enable you to communicate with staff not just within a physical facility, but also over long distances. This is especially handy in this digital age because it allows you to keep up with work from the comfort of your own home.

Security:

Your data and communications are safer than ever before thanks to data protection and firewalls. Data encryption for calls, firewalls to prevent illegal access, and more protective barriers to keep your company information secret are all options.

Lower startup and maintenance costs

: Because virtual PBX systems are cloud-based, they don't require much equipment to operate. This saves the company money on initial equipment purchases and installation, as well as future equipment upkeep.

No need for IT teams: By using this software, you can do away with the necessity for a specialist IT team to monitor and maintain it. This saves the organisation money by eliminating the need for a dedicated IT team and allowing any current IT personnel to focus on other technical aspects of the business.
Ease of Integration:

For businesses switching to virtual software, the ability to keep your old traditional system is a big plus. The virtual software may be simply integrated with your existing device, potentially saving you money on extra hardware purchases.

Scales Business Communication:

As your company grows and expands, PBX systems can scale up and down to meet your communication needs. It can scale at low cost and great capacity without requiring more resources and equipment than a typical system.
Virtual PBX also has a number of features The following are some of the most important features:
-Customization features enable you to decide how your system should operate. This allows you to customise how it responds to calls and how it performs its other duties to fit your company's needs.
-This bridges the gap between auditory and visual communication, allowing you to have a physical engagement with clients and colleagues via online video chats.
-Live call tracking and recording, which allows you to keep track of all incoming and outgoing calls. You can also record and archive the talks that take place during these calls for future reference and analysis.
Conclusion
On that basis, you should start looking for a virtual PBX supplier to supply you with a reliable solution for your company's communication needs.
There are several key players in the PBX provider industry that produce effective software, but our top recommendation is PBXPlus by 500apps, who have a proven track record of providing excellent software with top-notch features and premium benefits to small and large businesses at affordable and flexible prices.